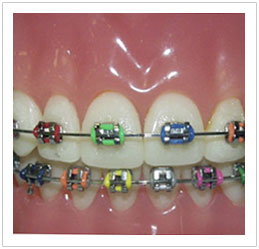 Orthodontics Singapore
Tiong Bahru Dental Surgery focuses on providing top quality dental care to every generation of our patients. If you need an oral check or dental advise on Orthodontics, do visit or call us. Our clinic is fully equipped with the latest facilities and technology and we have excellent infection control measures, complemented with dedicated staffs, dental clinicians and experienced Orthodontist in Singapore that will strive in delivering the best care and service they could ever give to our patients. We provide a variety of services such as root canal, cosmetic dentistry, dental implants and orthodontic treatments.
Orthodontics is the study and treatment of malocclusion (incorrect bites), that result in tooth irregularity, disproportionate jaw relationships, or both. With the right orthodontic treatment, we can correct dental displacement or control and modify facial growth.
One common way people use to correct their teeth alignment is dental braces. It is a device used to align and straighten teeth and helps them position it correctly with regards to a person's bite. There are different types of braces and each are suited to the particular type of problem. Therefore it is advisable to get help by the Orthodontist in Singapore to provide you the best type of brace that suits your teeth and personal needs. Metal and ceramic braces are the most commonly used braces in Singapore. To find out more about the differences between metal braces and ceramic braces, feel free to schedule an appointment with us.
If you are all ready to undergo the orthodontic treatment, feel free to call Tiong Bahru Dental Surgery. Dental braces are comfortable, easy to keep clean and it fits easily into today's lifestyle. With the help of braces, you can smile confidently and there would not be any problems of eating. Also, orthodontic treatment is simple, convenient and affordable for individual. An orthodontic treatment usually last for 1.5 to 3 years, depending on the complexity of the patient's alignment issues.
Do visit us if you need any help or advice on Orthodontic treatment. Our clinic is located at Tiong Bahru Plaza. We are highly accessible as it is conveniently located above the Tiong Bahru MRT station. If you have any enquiries, you can also call us at 62713083 to schedule an appointment with our Orthodontist.