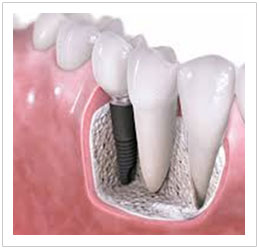 Dental Implants Singapore
Want to replace those missing teeth? Dental implant will be a good alternative to natural teeth. It is an effective natural appearance for the replacements of your missing teeth. This procedure has changed the lives of many people in Singapore and around the world.
It provides a strong foundation to match your natural teeth. A dental implant is a procedure where a metallic object is inserted into the jawbone to act like a natural-tooth root. It integrates with the jawbone to give a strong support to the artificial bridge that it will support. A dental implant can be an alternative choice for those who are not comfortable with dentures. Reason being dentures may go loose or may be cumbersome to handle on a daily basis. Those who have good general and oral health would be an ideal candidate for a dental implant treatment. To go through this dental procedure, patients need adequate bone in the jaw to support the implant so healthy gum tissues are a pre-requisite.
Dental implant can improve your appearance as it looks and feels like your own teeth and it stays there permanently. Therefore it improves speech and eating because it eliminates discomfort and pain. It is also very convenient because it is not removable unlike dentures, where you have to embarrassingly remove it at times to wash off the stains and food debris. With good care of your dental implants, it will last many years and stay durable.
There are two types of dental implants; endosteal (in the bone) and subperiosteal (on the bone). Endosteal is the most commonly used type of dental implant. It is an alternative for those patients with bridges or removable dentures. For those who are unable to wear conventional dentures and who have minimal bone height, should consider using subperiosteal type of implant instead.
Dental implants have a success rate of up to 98% so not to worry as many have done this before. With dental implants done, it will boost your self-esteem and you would not be afraid to smile again. If you need a reliable dental implant treatment in Singapore, do try visit Tiong Bahru Dental Surgery. We have many years of experience in doing dental implant treatment and we will provide you with the solutions that you need.