Advantages Of Wearing Braces When You Are In Your Teens
Dental braces (also known as orthodontic braces, or braces) are devices used in orthodontics that align and straighten teeth and help to position them with regard to a person's bite, while also working to improve dental health.
Why do most patients have orthodontic treatment during adolescence or early teens?
During adolescence, orthodontic treatment benefits the total oral health of a growing child. Usually when a teenage patient undergoes treatment and achieves a healthy, beautiful, straight smile, he or she has a self-esteem boost! As teens grow into adulthood, changes occur to the gum tissues and the bones that support the teeth. By treating during adolescence, while a person's jaws are still growing, the doctors achieve results that may not be possible once the face and jaw bones have fully developed. Additionally, teens often gain psychological benefits from experiencing orthodontics at the same time as many of their peers.
Orthodontic treatment is an investment that will last a lifetime. It is very important to choose the right orthodontist that is committed to delivering individualized quality treatment that will result in a beautiful smile and long-term dental health.

What Are The Advantages Of Having Braces?
1)  Improve in social and personal life – able to see a smile with straight teeth and have confident appearance
2)  Improve overall health– maintain dental hygiene and make teeth look and work better
3)  Able to help prevent tooth decay and able to clean teeth properly that are crooked or overlapping
4)  Help correct bite problem and make chewing of food easier
5)  Less prone to gum disease and cavities because teeth can be cleaned and flossed properly
6)  Braces can move misaligned teeth over a period of time
7)  Protect teeth – patients with an irregular bite pattern often experience uneven stress and impact on certain teeth. Teeth will wear at a more rapid rate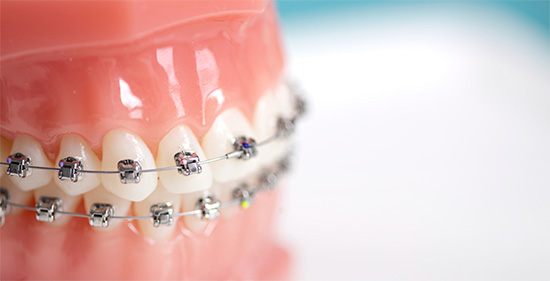 Ceramic Braces
Ceramic braces function the same way as metallic braces do. They are more aesthetically pleasing to the eye and is a good choice for people who do not want their braces to show so distinctively.
One of the better options out there is using ceramic braces made of composite materials. They come in varying levels of transparency so you have ceramic brace that can take on the natural color of the teeth or are thoroughly translucent to be called clear ceramic braces and they do not stain. Most adults prefer ceramic braces because they blend in with the color of the teeth and are cosmetically less noticeable than metal.
Metal Braces
Metallic braces (stainless steel) are the first type of braces that came out into the market and is used widely all around the world in orthodontic treatment. They are the most popular type and economical type of braces used
Cosmetic Dentistry Singapore
Cosmetic dentistry in Singapore is in great demand as increasingly affluent Singaporeans choose expensive procedures that fix nature's flaws in a short time. Cosmetic dentistry can confer a greater functionality and be a great confidence booster.
Cosmetic dentistry focuses on improving the appearance of a person's gums and teeth to result in a pleasing smile. The procedures include the whitening of teeth to improve color harmony, using crowns and veneers to improve the shade and contour of teeth, as well as implants to fill up gaps between the teeth.